Meet the family who hired a manny - they never looked back
In a world where most child care is still carried out by women, it's nice to know there's a bunch of guys like Josh Wait out there getting the job done.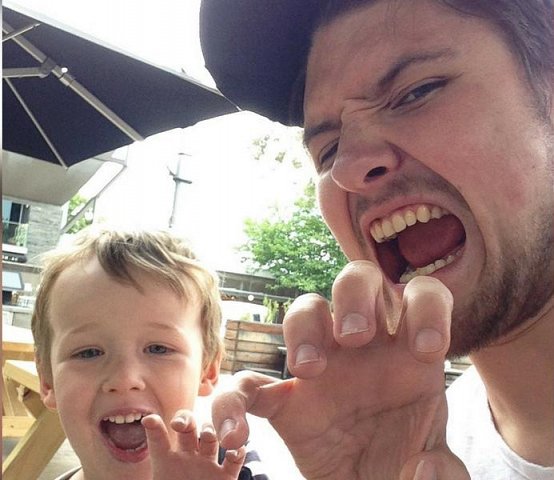 Josh isn't a dad, and he isn't a teacher
The 23-year-old RMIT student works part-time as a 'manny' – that's a male nanny. It's a hands-on job where a natural affinity with kids comes in very handy, as Josh has to fit right into another family's life the way a close relative would.
Josh says his job involves helping the children he cares for with anything their mums and dads would usually do. "I do everything with kids from school pick ups to cooking dinner, to taking them to basketball or swimming, and doing homework with them," he says.
Josh is a 'manny'
'Manny' isn't a job title Australians are very familiar with, but in the US and UK, male nannies have been a thing for more than a decade. Britney, Madonna and Gwyneth all hired them for their respective offspring, and reports suggest a good manny can earn up to six figures caring for well-heeled kids in New York City.
Several boutique manny agencies have popped up in major cities across Australia to cater to our own growing market of families looking to hire a male caregiver for their kids.
Annie Merrylees is the founder of My Big Buddy male nanny agency, which has offices in Melbourne and London. The families who approach her often include single mums and families where the girls outnumber the boys. She says she also provides mannies to families with children who have a disability or special needs, such as ADHD.
Most commonly though?
"It's simply families with boys," Annie says. "They want their children to grow up to be responsible young guys and learn from a good role model. Someone who they respect, who will assist them with homework, encourage them in sport, and demonstrate good manners, who will ultimately be a great friend."
The widely-held belief that men and women bring different qualities to their relationships with children is something that Annie's experience confirms.
"Men generally interact with kids in a more physical manner than women," she says. "They bring a different energy to play, and often have more fun ways to interact with the kids to blow off steam."
At the same time, male nannies provide important modelling for young children on how effective men are as carers, helping to dispel outdated views of child care being women's work.
As Josh says: "I think it's important for children to see both men and women in nurturing roles, and that jobs are not gender based. Children are taught by adults to imagine doctors and engineers as men, while seeing nurses or nannies as female jobs. This doesn't create healthy expectations of where they or other people fit into the world."
Why are there not more men in these roles?
One of the main reasons given for the tiny proportion of male child care workers (5 percent) is that men in the industry still face suspicion from some sections of the community regarding their motivation for working with young children.
Annie admits that this is something her all-male agency has had to contend with. "Surprisingly, I've found a lot more criticism since launching the agency in Melbourne than I ever did in London. Families in London seem to focus more on the benefits and proven necessity of having good male role models in their children's lives than they do the unlikely risks."
Refreshingly, Josh says he doesn't get too many strange reactions when he's out and about in his manny role.
"Most people I've met while at work don't seem to care that a young male is looking after kids," he says. He does admit he gets a bit of strange treatment from dads occasionally if they don't realise who he is. "I find the best thing to do in these situations is introduce myself. They are more accepting when they know who I am."
While encouraging more men to work in the early childhood sector provides plenty of rewards for the carers and the children involved, it's also a win-win for families hoping for the best care for their kids. A successful child/carer relationship is about a meaningful bond, not about gender.
"Having more males in child care gives families more options," Annie says. "More options are always a good thing, and when choosing the perfect person to look after your kids, more guys means the families have candidates available to them who may have more in common with their particular family."
Global parenting expert Jo Frost
---
KidSpot: Published April 27, 2017
Read the article in full here: KidSpot