How I met the manny of my dreams
Forget Mary Poppins - today's ideal nanny is a sporty outdoorsman who's also handy with a lug wrench. Judith Woods can't wait to hire one
A muscular young man named Ross is sitting opposite me and talking animatedly about the time he camped on a remote island off Australia, teaching indigenous children by day and helping them to catch their supper in the sea and cook it over an open fire by evening. He assures me that he could do the same with my children.
The thought occurs to me that maybe fishing for mahi-mahi might be a problem in north London. Then again, given his can-do attitude, maybe not. After he tells me he's been working as a primary teacher, can play virtually any sport you care to mention, and that of course he believes in the Tooth Fairy, I'm ready to take him home.
But Ross isn't lining himself up to become my new husband. He's auditioning for a much more pivotal family role - as our new male nanny, or "manny", as they're known. After five minutes are up, moreover, he gracefully excuses himself and says: "Shall I send the next guy over?"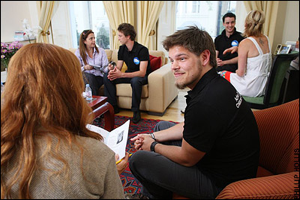 Frankly, I haven't had that sort of offer for a good 20 years (and, truth be told, not very often then), but this is the manny equivalent of speed dating, an ingenious idea that takes advantage of the fact that every mother knows within a minute - two at the outside - whether she'd trust a person with her children or not.
So, rather than wasting hours going through the motions of chatting to unsuitable candidates just because they've turned up on your doorstep, parents can sign up for a "fast appointment" service run by My Big Buddy, London's leading male nanny agency. Over a glass of wine, they can then interview 10 or so carefully vetted mannies on a single evening.
I'm still pining for Ross when Jake arrives - and I'm bowled over again. Jake runs, walks, cycles and plays all the obligatory sports. He's also doing an MA in International Relations, is a snowboarding instructor and qualified personal trainer - but, best of all, he fixes things around the house.
When Jake's not transforming young couch potatoes into veritable runner beans, he's capable of putting up cupboards, mending fuses - the works. He's just like a husband, only better, because he actually does these things (rather than talks about doing them) and then goes home to his own house every night.
It's clear, from their up-front cricket-rugby-basketball credentials, that these twentysomething mannies are aimed primarily at households with boys, and where parents are separated or daddy spends all his waking - and quite a few of his sleeping - hours at the office.
Big Buddies - who charge £10 an hour for casual work and from £250 net per week full-time - can be hired permanently or just for holidays.
They're available for half-terms, weekends and even playdates to help boys work off their excess energy and to organise the Swallows and Amazons den-building and tree-climbing activities that the average au pair simply can't manage.
"My business partner and I were both working full-time as nannies and it was obvious to us that, although we tried our best to get down and dirty with the boys we were looking after, we didn't have the ability or the stamina to play football for hours on end, and they knew it," says Annie Merrylees, co-founder of My Big Buddy.
"These days nannies, carers, nursery- and primary-school teachers all tend to be female, and there can be a need to redress that imbalance with a great role model who can not only play sport and relate to boys but also reveal a softer side. Having said that, Big Buddies aren't just for boys."
At this point, I feel I must mention to Jake et al that my household thus far comprises a six-year-old girl and, although I'm pregnant, I've no idea if I'm expecting a son or another daughter. All the lads claim they can look after girls, too, but there's only one way to find out: have they ever logged on to the Barbie website? Do they know what Polly Pocket looks like - and could they play hairdressers for two hours?
Jake acquits himself with honour as he has a baby sister and has been well-versed in the etiquette of dolls' tea parties. He also loves High School Musical (and yes, he has a girlfriend). Ross can skin a rabbit but has no idea how to bake a fairy cake.
Adam - "I'll take 'em outdoors, rain or shine" - can identify a Sylvanian Family and feels confident that building one of his multi-storey treehouses would win over even the girliest girl. (And her mother, if I'm anything to go by.)
But not all the Big Buddies are so gung-ho. Frenchman Thomas can teach your children art, cello, piano (plus French, obviously) as well as how to whip up poule au pot. Scotsman Nick is a professional actor, so he can help the children put on a show to remember.
Few of the Buddies are full-time, and none are career mannies; they're in it to pay the bills and have uncomplicated fun, so they have little interest in status, how big their employers' house is, or what sort of car they drive.
They have ambitions to do other things, which offers older children in particular a valuable window on the wider world. And for parents who may have suffered at the hands of a hormonal female nanny, prone to touchiness, a straightforward chap who takes orders without taking offence could prove to be a breath of fresh air.
While the Big Buddies may not all excel in traditional prissy nanny skills such as laundry, they do know how to communicate with boys, which most mothers would rate considerably higher than perfectly pressed bed linen.
One of the other mothers present at the fast appointment service is Adi Garrard, from London, who has three boys, aged eight, five and six months. She has used Big Buddies in the past and found them invaluable.
"Felix, my eldest, insists he's too old for a nanny, and I can see his point," says Garrard.
"It's far cooler to hang out with one of these guys. Last time we had one, he took the two elder boys out from dawn to dusk. They went to museums, for boat rides on the river and played football in the park and loved every minute of it.
"My husband's a banker, so he's not around as much as he'd like, and a Big Buddy slots in really well during half-terms and holidays. I'm definitely going to hire another; they're a really positive male influence."
Imagine it: a really positive male influence who can sort out the shelving. I fear my husband is about to get the sack.