Would YOU hire a 'manny'?
Founder of business offering men as babysitters says women 'cannot model maleness'
Annie Merrylees is the founder of UK's first male nanny company, My Big Buddy

The 35-year-old Australian launched the Melbourne branch in 2014

She now has 50 mannies in Melbourne who mainly help out families with boys

She spoke to FEMAIL about her business and the rise of mannies as an option

By Nkayla Afshariyan For Daily Mail Australia
It might be assumed that being a nanny is an occupation that would appeal to women more than men.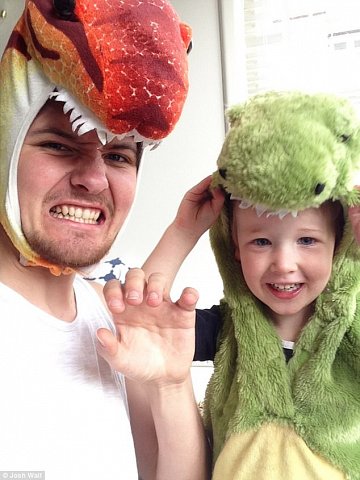 But according to Annie Merrylees, the founder of male nanny company, My Big Buddy, her agency in Melbourne has 50 'mannies' and it's a growing trade.
Speaking to Daily Mail Australia, Ms Merrylees, 35, said male nannies are often hired to families with boys and single parent families in need of a 'male influence'.
'It's generally families who have boys or who need a bit more balance. Fathers might work long hours or it might be a single parent household, so they need male influence and a good role model,' Ms Merrylees said.
'Often children have female teachers and then go to the park and their friends' mums will be there and they don't have much interaction with guys.'
The challenges of modern life often means one parent is constantly working and misses out on spending time with their children.
'Women cannot model 'maleness' and that is where My Big Buddy can double up in providing a care giver as well as meeting that need for doing 'boy stuff' with a fun, active guy,' Ms Merrylees wrote on her blog.
My Big Buddy began in the UK in 2006, and grew to now include a list of high profile clientele.
'In the UK almost 40 per cent of our client base are high profile celebrities,' Ms Merrylees said.
'We're much bigger in the UK than we are in Australia so we only have about 50 mannies in Melbourne.'
The male nannies are mainly students, studying everything from teaching and drama to graphic and industrial design.
'Guys interact differently with children and children are often active and want to play, and the male nannies are the same,' Ms Merrylees said.
Josh Wait, a 23-year-old RMIT student in Melbourne, has been a male nanny for two years now.
He spoke to Daily Mail Australia about his role as a male nanny with the families he works for.
'Most of my time is spent on weekdays picking up the kids, taking them to sport and helping with homework, making them dinner and the like,' he said.
'If I work on the weekends I'll take them to the zoo or to the park.'
Josh has years of experience with children, having been a scout in his teenage years.
'I only look after boys and the families say the boys get something from having an older male around,' he said.
'It's not a big brother relationship as much, but it is a close relationship. Especially when I've gotten to see the little ones grow up.'
Ms Merryless said having male nannies allows families a few different options.
'It makes the job varied and families recognise it's a viable option these days,' she said.
---
Daily Mail Australia Published: 08:31, 28 April 2017
Read the article in full here: Mail Online