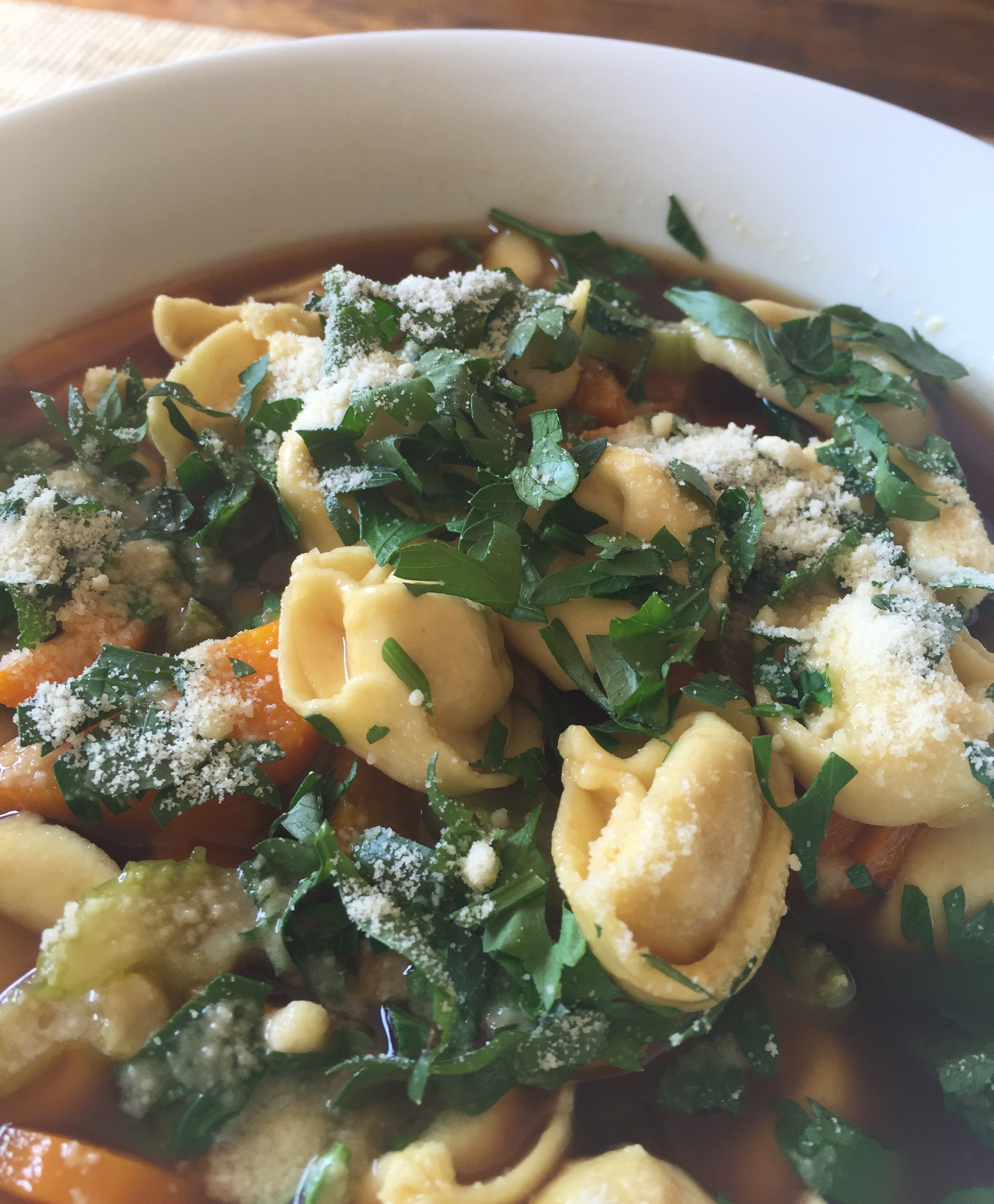 Beef Bone Broth Soup
By Annie on 10 May, 2016
If anyone in your family is ever feeling a little run down (aren\'t we all!), like a cold is coming on or just feeling like something warm and fuzzy for the winter, this Beef Bone Broth Soup is the perfect pick me up. Made from marrow bones, and cooked over a number of hours, the broth takes on all the goodness from the bones and develops a deliciously rich flavour you can use as a base to any beef recipe. I love to throw in some veg and fresh tortellini, sprinkle with parsley and parmesan and serve pipping hot!
Ingredients:
2 kg Beef Marrow/Knuckle bones. (Ask you butcher to slice them up for you and best to get a mixture)
2-3 Sticks of Celery, roughly chopped
2-3 Carrots, roughly chopped
2-3 Brown Onions, roughly chopped
1/4 cup of Apple Cider Vinegar
1-2 Bay Leaves
8-10 Pepper corns
4 Litres of cold water (as much as you can fit in pot)
Salt to taste (only add this right at the end though as the flavour develops over the hours)
Method:
Cover baking tray with baking paper and lay out your bones. Cook in hot oven (250 degrees) for 30 minutes or so until well browned on both sides.
Once browned, place bones in large crockpot or slow cooker along with all other ingredients and bring to boil. Once boiled, leave to simmer for 12 to 24 hours. If you are using a crockpot on a cooktop, you can leave it off and covered over night, then begin again when you are up in the morning.
When the liquid has reduced and intensified, (this is when you should taste and add salt if necessary) pick out the bones and strain the broth, discarding all veg, bones etc leaving you with a nice brown tinged, clear liquid. You can either cool it and divide up into Tupperware to freeze or use straight away. You\'ll have about 2 litres worth but the flavour is much more intense than 2 litres of store bought stock, so you only need about half that to make enough soup for a family of 4.
To make soup:
Take about 1 litre of your beef broth, heat in large crockpot and add any veg you choose. I use Onion, Leek, Carrots, Celery, Cauliflower, Broccoli and Zucchini. Once the veg has softened, add your fresh tortellini. You only need about 20 pieces max. When that\'s cooked it will float to the top. You can add water at any time to increase soupiness. I\'d usually add about 2-3 cups.
Serve immediately sprinkled with Parmesan and fresh flat leaf parsley.