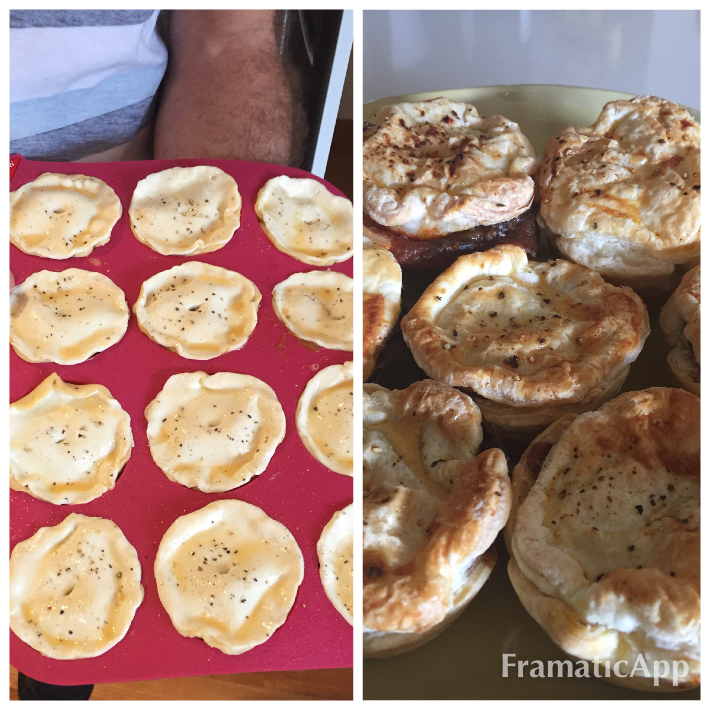 Party Pies!
By Annie on 23 May, 2016
What a hit these were at our most recent kids party! And so easy if you use a slow cooker to make the filling!
Ingredients:
1 kg Beef chunks
1 Brown Onion (diced)
1 Beef stock cube
1 can of Condensed Chicken Soup
3-4 Tablespoons of Powdered Gravy (dry)
1-2 Tablespoons of Ketchup
2 Teaspoons of crushed garlic (I use the lazy tube stuff)
1 Teaspoon of Ground Pepper
1 Packet (6 slices) Short Crust Pastry
1 Packet (3 slices) Puff Pasty
1 Egg
Method:
Simply throw all ingredients into slow cooker, combine and leave for 8 hours on high. (6 hours is enough if necessary) If you want to leave it to cook overnight, I\'d suggest adding half a cup of water to the mix before going to bed.
Once cooked, leave filling to cool before spooning into short crust pastry bottoms, then top with puff. No need to blind bake pastry first. Brush with egg wash and cook in oven on 180 degrees for about 25 mins. You want them to be cooked but not fully browned so they can go back in just before you wish to serve them.
We used a standard size muffin tray and made 24 pies plus one ramekin size to taste test before the party. Yum!!